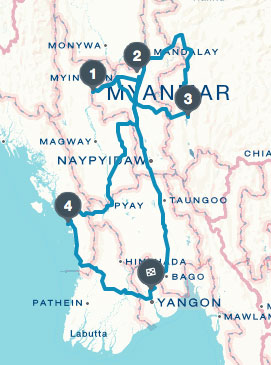 Myanma was one of the last countries in South East Asia that I visited, and it was one of my favorites to be sure.
I found Myanmar noteworthy in a great many ways, in particular the people, the temples & monuments, and the destinations were far more interesting than anything I had seen in Thailand and other nearby countries.  In fact, after a thirty year absence from taking serious photographs (as opposed to holiday "snapshots"), Myanmar inspired me so much that I fell in love with photography again.  Unfortunately all these images below were taken via a mobile phone, great for ease of portability, but sadly lacking in terms of resolution and high quality.
Map courtesy of Roadtrippers.com  – a tool I frequently use now for planning routes.