Hello, My name is Brant Bady. Welcome to my travel blog and photography portfolio!
So whats up with this Honeybadger business?
I was nicknamed the "Honeybadger" by friends and co-workers, primarily because of my persistence in achieving goals, and a modicum of fearlessness in terms of having adventures. In fact, the logo image on this site is a retirement present for me from colleagues in the civil service, commissioned as a watercolour, and it incorporates a number of my life events in a somewhat amusing caricature (I deny the physical resemblance however). Since my retirement though, I have started to more proactively spend up to half my time traveling the world, taking photographs, and telling stories about my adventures.
"One Day Baby We'll Be Old, Oh Baby, We'll Be Old, Think About The Stories That We Could Have Told" – Asif Avidan
Maldives Solitude
Countries I Have Visited to Date (as of 2020):
Bangladesh, Germany, Egypt, Turkey, Tanzania, Kenya, Czech Republic, Brazil, Chile, outposts of the UK (South Georgia & Falklands), Antarctica (a continent not a country), Argentina, Uruguay, Cuba, Philippines, Australia, Peru, Ecuador, India, Sri Lanka, Maldives, Marshall Islands, Thailand, Myanmar, Malaysia, Indonesia, Singapore, Vietnam, Cambodia, Laos, New Zealand, Trinidad & Tobago, Grenada, Barbados, Mexico, Belize, Guatemala, Honduras, Nicaragua, Costa Rica, Panama, Holland, Austria, Slovakia, Italy, Greece, Spain, France, Sweden, Croatia, USA, and Canada.
2017 started with me in the Philippines for a month, having spent two months previously exploring Australia by car. New trips in process include Cozumel, Cuba, Uruguay, Argentina, Antarctica, Chile and Brasil, and then Greece, Turkey, Egpyt, and Kenya for the spring/summer of 2018.
Interests:
Being an adventurous guy, I enjoy sailing. This my sailboat, the SV Encounter in the middle of a race in Esquimalt Harbour, Victoria.
I have 6000+ miles racing & cruising – significant trips included a circumnavigation of Vancouver Island, and a passage from San Diego to Cabo San Lucas Mexico down the Baja, and a month on a slave sailboat in the Marshall Islands)
I enjoy scuba diving & snorkeling (stopped counting at 5000 hours underwater – exotic diving locations include: the Marshall Islands, New Zealand's Poor Knights Islands, Belize's Great Blue Hole, the Maldives, the Koranati Islands in Croatia, Roatan in Honduras, plus many places in S.E. Asia)
Gourmet cooking (I taught Thai cooking for a while), cinema, and music, but traveling and photography are my main passions now.
In terms of photography, my first career choice was to work as a commercial diver in my early twenties, but it became clear that I would not likely live into my thirties if I continued down that path, so I went back to college and studied technical photography for two years. Alas on my graduation, the economy was not doing very well, and my employment prospects were generally limited to part time work at $4/hr in a studio. Instead I elected to "temporarily" take a civil service job that was related to photography and information technology & management. Basically I spent my civil service career managing, making accessible, and preserving other people's photographs, instead of working behind a camera myself (i stopped taking photographs as a profession, and for pleasure – for the next 30 years I had nearly a total lapse in terms of taking photographs) Timing wise I was very lucky, as the transition from film to digital took place during my career, and I was able to leverage my knowledge of technical photography and information technology to do some fairly innovative projects for the provincial archives (online access to digital content) and subsequently the provincial museum (Manager of Digital Preservation). Thirty two years later however, that "temporary" job came to an end when I retired, and became a "free agent", footloose and fancy free to basically do what I want, and so I am back to taking photographs for pleasure first, but also for profit in order offset the cost of my travels and equipment – see my blog post – "Thy Mother Mated with a Scorpion" for a better understanding.
My shooting style now is completely the opposite of my training, which was weighted much more to studio photography training with models, products, using medium format professional equipment. In fact I was not permitted to use my own personal camera, a Nikon F2A (the Nikon F series being a tried and true camera used by National Geographic Photographers), because it was only 35mm quality. It is only now, just in the last few years that it is possible to extract medium format quality images out of equipment that is the same size as the traditional 35mm SLR, and in fact of less weight.
Adventures and Counting Lives:
Have done a bit of skiing in very challenging conditions, one trip white water rafting (got sucked down through a hole/vortex to the bottom of the river for a couple of minutes), having a baby killer whale lock its mouth over my wrist, swam/dived with a variety of sharks, been bitten by the "giant Pacific octopus" as well as an otter, held my breath and swam down to 60 ft, below the surface to set an anchor, discovered a few wrecks, been in a head on car crash, sailed in many storms and had many wipe-outs in racing (including putting the boat on its side horizontally so that the cockpit flooded). By my own accounting I only have a couple of my nine lives left, so I look for really good adventures now!
Diving Gordon's Rock, Galapagos, Ecuador, June 2016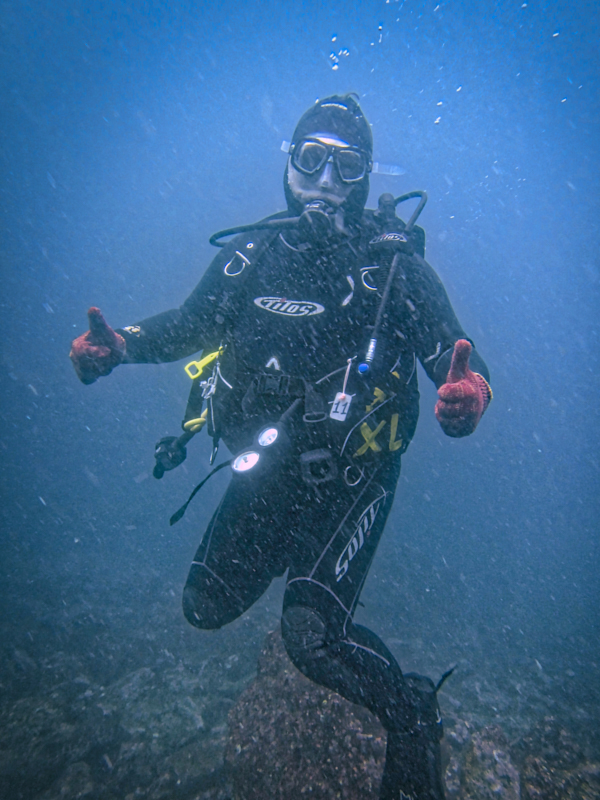 Note: Gordon's Rock is one of the most challenging places to dive in the Galapagos, so any reputable dive shop should prevent newly certified divers, or those with limited experience from doing it. It is however, "the" place to see and swim with hammerhead sharks, and indeed I did!