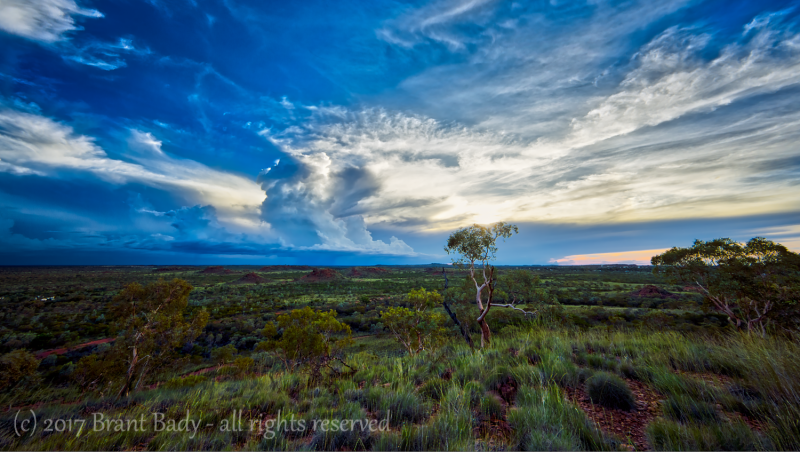 Australia is big, after all its a continent unto itself. One of the ways to get around that visitors consider is renting a car. That's what I did, and I drove about 12,000 km in the space of nearly two months.
In my advance research, I looked into the possibility of a renting a camper van, but it appeared to me that the cost of extra fuel for a much heavier vehicle plus the cost of a space in the various campgrounds was going to outweigh the cost of renting just a regular car and finding accommodation in hotels, AirBNB and Couchsurfing. A regular size car was also much more maneuverable in the cities and much easier to find parking.
There were also some opportunities to "re-position" camper vans that others had rented, where the rental is nearly free and they do provide some fuel, but the time available these companies provide is fairly limited, so you don't really have any time for actual exploring on your own.
Car Rental Tips
Use one of the larger well established companies, as you are likely to have less hassle and its easier to resolve issues if something comes up. Another reason is that the large cities have toll bridges, and will automatically track you going on toll roads.. so its a lot of trouble to pay in each city. The biggest rental agencies will just charge a one time fee of $16, put a transponder in the vehicle, and then you can pay any of the various tolls through the rental company when you return the vehicle.
If at all possible, avoid drop off fees by planing your road trip to start and end in the same city. I had originally planned to only drive Melbourne to Cairns, and then bus / fly around the rest, but the drop of fee for leaving the car in Cairns was going to kill me. It was only marginally more expensive to add another month and just drive it all. Most certainly that provided the utmost in freedom and flexibility.
You likely won't be permitted to drive in rural areas at night (you really don't want to because the odds of hitting a wallaby or the like is fairly high), and unless you are renting an off road vehicle 4wheel drive, high suspension, then you will be restricted to driving on surfaced roads only – and there are some routes that are not completely paved. Plan accordingly.
GPS is very useful, especially when exploring, but renting one from the car rental place is pretty expensive ($7 a day). I found it nearly the same price to just buy a new one rather than trying to update an existing one with the Australia map.
Car insurance companies make a lot of their profit from selling the extra insurance. While it is cheaper to use a third party company for this, be careful of deceptive marketing, and clearly read the terms and conditions. One that can bite back is that the insurance underwriter might try to position themselves as the last option for payment, so if you have house insurance and if it provides some coverage for vehicle rentals while traveling, you might find you have to claim on your house insurance which might blow any discounts you might have
Insurance coverage is possible through the credit card used to book and pay, but be aware there are limitations on the length of the rental for which they will cover, and you don't get any third party liability coverage unless you have an existing vehicle at home that is insured and that offers the benefit of insuring you for that.
Frequent Road Kill in Australia
Driving Tips:
Of course cars in Australia are right hand drive, so if that's new to you, you will tend to flip the wipers on when you actually wanted to use the turn signals until you get used to it.
The police are brutal in terms of watching for speeders, as some of the states are very aggressive in setting revenue targets, and the posted speeds go up and down continuously. I found that Australian highways were not a smooth as what I was used to, so I was consistently under-driving the speed by 10 km/hr, so I was getting into the habit of setting my speed by feel. That turned out to be an expensive mistake when I hit some very nicely surfaced road, and inadvertently slipped up to 115km/hr in a 100 km/hr zone and got nabbed by a police car radar from a car coming at me. $300 fine. Only rent a car that comes with a speed limiter – a control you can set that will not let you go above a certain speed – similar, but more effective in this case than cruise control.
Road trains can kill you. A road train is a huge truck that tows a number of attached cargo units, they can get up to 50 meters long. The travel fast and they cannot slow down easily even if they wanted to. This can get quite exciting when you are out in the wilderness on two way highway, that all of a sudden goes down to one paved lane with large gravel shoulders, and then you find a road train bearing down on you from either behind or even more exciting coming directly as you. The ONLY thing to do is get of the paved surface and out of the way onto the gravel shoulder and let it pass.
Termite mounds are rock hard, and you will find a few billion of them in Australia. Out in the rural areas the termites will start small mounds right on the gravel shoulders, so be very careful when pulling off pavement onto the shoulders
Roads can quickly become flooded, particular in Western Australia, and the Northern Territories. When traveling in those areas its important to check the current road condition reports online. If you get stuck, be prepared to sit it out for quite a few hours, and don't plan to be wading across any flooded roads in those areas. You might be in danger of getting taken by a croc.. it happened to some locals just after I left Darwin, they got caught in a flood and attempted to cross the highway on foot, and one person was taken by a croc. In dry season thats not really going to happen, but in wet season the crocs are free to roam more freely as rivers and plains flood.
A large termite mound in the Northern Territories