Escape from Camagüey
I had decided to stop in Camagüey, mostly to break up the long bus ride from Santiago de Cuba to Trinidad, and so I had arranged with my guide acquaintance Fernando to stay at a Casa for one night. However the bus schedule was not so accommodating I found out, in that the only outbound bus from Camagüey to Trinidad left at 2:30 am- definitely the wee hours of the morning.. since my bus from Santiago wasn't arriving in Camagüey until about 8 pm, it made little sense to taxi back and forth and pay for a Casa to crash at for only a few hours, nor did I want to cut a day from my plans for Trinidad.
I cancelled the Casa, and just stayed at the bus station, although thankfully just across the street from from the station it was a very nice Italian restaurant, where I killed most of the evening sipping wine and dining on lobster. They finally ushered me out just before midnight, so I left the comfortable couch in the foyer of the restaurant for a hard and uncomfortable seat on a bench at the bus station, but with only a few hours to wait.
I locked my gear backpack with a cable lock and motion alarm to myself and my suitcase, set an 2:00 am alarm on my mobile with vibrate, and put on my headphones and listened to music on my Ipod. I was starting to inadvertently doze off at about 1 am, when one of the security people came over and shook me – he wanted to get me to take my backpack and suitcase off the bench seats and put them on the floor (although at 2 am the place wasn't crowded), which of course set off my baggage alarm quite nicely.
Eventually the bus arrived and I got on it no big problem. The issue for me with buses in Cuba is that the "process" seems to be a little bit different at each terminal, and its not always clear as to which bus (i.e. even when the write the supposed bus # on the ticket, its usually the wrong number). I arrived at Trinidad at 7 am-ish, and took a bicycle taxi to my Casa.
The streets in Trinidad are often paved with cobblestones in the center of town, so it was bumpy ride and a few times I thought the bicycle was going to topple over. More amazing was the strength and stamina of the driver/peddler going over all those bumps and humps. I said he knew exactly were my Casa was and that it was a top notch place! Also amazing were a few more classic cars parked along the streets.
Citron in great shape, well cared for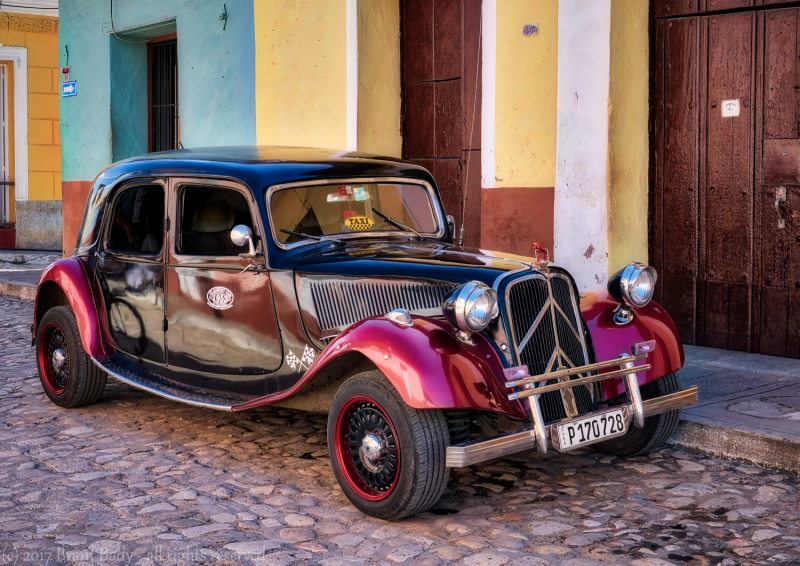 A Really Nice Casa Particular
Thankfully there was no problem in getting into my room, and the place was indeed top notch, in fact it was almost palatial. The room was big, the bed comfortable, the bathroom clean, and the air-con fairly quiet. The place even had a swimming pool, although that day it was cool and a bit rainy. The price was very reasonable as well. It came highly recommended by Fernando, and I agree with everything he said. The name of the place is Casa Jorge Mendez Perez – https://www.tripadvisor.com/Hotel_Review-g285731-d1212794-Reviews-Casa_Jorge_Mendez_Perez-Trinidad_Sancti_Spiritus_Province_Cuba.html
Still no internet at a Casa though, the only place I found access was at the gov't Telecom office at Plaza Carillo, which had shared access computers. You needed a WIFI scratch card, and there was a bit of a line up to get on. Anyways, it worked.
Centro
After some sleep (well most of the morning and early afternoon), I finally wandered into the central portion of town with my camera gear and started hunting for subjects. The main square (Plaza Mayor) looked promising so off I went, and promptly got rained out in a huge downpour. I took refuge in a restaurant and sipped on a beer until it abated, but by then the light had faded, so I only got a few shots. Trinidad is a UNESCO heritage site, and looks quite different than most other towns/cities in Cuba.
At this point though I was figuring things might be a bit slim photographic wise based on what I had seen so far, as the Centro part was also pretty touristy..
In the next few days though I would be re-educated about Trinidad once I got out of the tourist section.
Regardless, that night I was looking for some live music with dinner and found a restaurant that had a resident Musician, called "Pulpo" which means Octopus in Spanish, because he could and would play up to five different instruments at one time.
I absorbed a couple of Mojitos while listening to his music – quite good actually and all original compositions, and then decided to try the seafood pasta, but I wanted them to make it spicy. I did my usual "make me cry from the heat and I will give you a big tip", but that kinda failed, in that it was delicious, but not spicy. They brought me a bottle of Tabasco, and then that really did the trick, I had the endorphins in my brain streaming nicely while my eyes watered, and the dish was "excellente" – the fresh basil helped it quite well. Restaurant Bar La Redaccion gave me the best meal I had in Trinidad!
The Gentleman – He would often come out to this place at the end of the day, smoke a cigar, watch the world go by, and chat with the occasional passerby
West Side of Trinidad
The next day, having much more time, and more appropriate weather, I decided to range a bit further beyond the center square, although it was my starting point.. I headed up the cobblestone road to the northwest side of town hunting for photographic subjects. This whole area, the west side of town proved to be a goldmine of subjects, particularly people going about their daily routine. While a few people were a touch camera shy (they would disappear from view), most had no problem and appreciated seeing the images afterwards, and it was a great ice breaker to initiate a bit of conversation with them. In fact I covered more of this area the next day, and was rewarded by very good light late in the afternoon.
Bye Bye La Boca

I reckoned that I had done a decent job of trying to cover the town, so I decided to go further afield. I first booked a tour for the next day out to the old sugar cane plantations in the Valle de los Ingenios, and then I jumped on the tourist bus that makes the rounds out to the beach and resorts at Playa Ancon. My target was NOT the beach however, I was aiming for a small fishing Village on the route called La Boca, figuring I could get some shots of fishing boats and and people working.
Unfortunately, La Boca was supposed to be a scheduled stop, but seemingly no one goes there much, so the bus just continued past the turnoff to it. I wasn't aware we had gone past because of the time lag my mobile was taking to update my position via cell towers on my offline map of the area. The driver didn't speak any English, but I got through to him about where I really wanted to go. He was very nice, and was actually willing to take me back to La Boca if I wanted… but I declined once I queried about the schedule, as there was only going to be one more stop there again that day, and it would be after sunset. I didn't want to get stranded there. Instead I killed an hour at the resort quaffing a beer on the beach and gazing out at the Caribbean Ocean. It was relaxing and calming, but not quite what I had in mind in terms of photography. The other "issue" being that the beach at Playa Ancon has SAND FLEAS, so I was anxious to get out of there before dusk when the little bastards come out the most (see my blog posting Go Ahead Bite Me, or at Least Try To – at the end of the post it talks about 200 sand flea bites I got in Guatemala and the week and a half of torturous itching – and a cure!).
Valle de los Ingenios
My last day in the area, I headed out on a package tour to Valle de los Ingenios. Package tours are usually the worst for me, and I personally found this one to be pretty much the standard fare, and not particularly rewarding photographically, but not a total bust either. It certainly illuminated the fact that much a lot of the wealth accumulated in Cuba by the early twentieth century, was done so on the backs of slave labour (previously a good portion of Cuba's wealth came from being effectively the consolidation and distribution point for much of gold looted from the Americas by Spain).
Sugar Plantation Buildings, i.e. house and tower for the "owners", although not the slave accommodations which were five people to a small room.