My decision about hiking in Patagonia, was very simple – "Not To". Yet I didn't escape hiking totally as I wound up doing some hiking on my own in the area around the Fitz Roy range in Argentina out of El Chalten.
My first stop though in Patagonia (the Chile side) was the famous Torres Del Paine. Instead of hiking the normal W route (which as noted in my previous blog post would have put me mostly in the bottom of valleys with bad viewpoints), I hired a guide and rented a vehicle. This allowed us to explore as we pleased, in effect modify our plans as suited us and permitted by the weather.
Wildlife
I pressed my guide & photo sherpa, Mattias, that I thought photographing a puma (AKA cougar, mountain lion etc.) would be a really high point of my visit.
Consequently in Torres del Paine in Patagonia we explored a number of places that "puma" might be likely to hangout. Places that my guide had spotted them in the past in fact, and of course these areas were far from the hiking trails and most visitors. I also noted that Andean Condors would have been pretty good to see as well. But alas we were skunked – no puma sightings for us, nor did we see any condors – although my guide Matias sure tried to put us in the right places to observe – it just wasn't to be so.
Not to say that I didn't see any animals in all those epic landscapes. The Guanaco is a member of the camelid family (the wild cousins to Alpaca and Llama), and is native to South America. With an estimated total population of 650,000 in South America, there were plenty to see around Torres del Paine – and Guanaco are a great food source for Puma, so its a viable strategy when looking for Puma to hang around where their food source hangs out.
The Andean Grey Fox also made a couple of appearances. I was actually amazed at how close they would get to us.. but I guess the hunt for food emboldened them as well. Obviously they can't take down a guanaco on their own, they are not above chewing on any remnants of puma killed guanacos.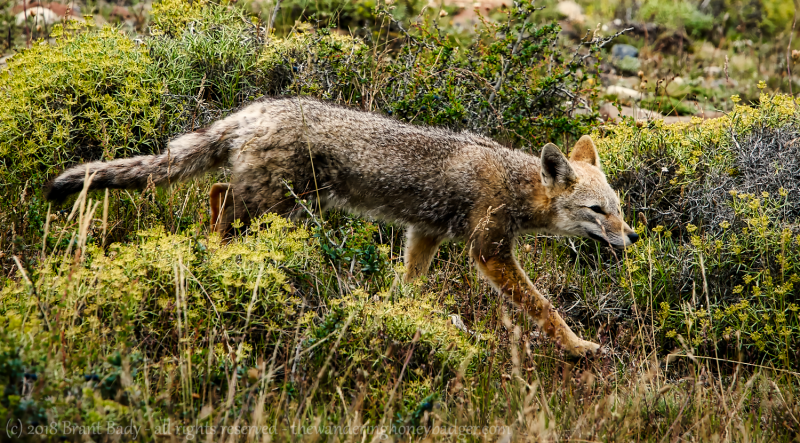 Note: the local name for the small spikey bush that is yellow-green in the upper LH corner of this photo translates to "Mother-in-Law's Pillow", which had me laughing, except they would continually stab at my ankles when I was walking around – very sharp spikes and a bit painful.
Weather
At a latitude of roughly 50 degrees south, Patagonia is similar to where I live at latitude 50 north, with the seasons reversed of course. Being there in January and February put me in Patagonian summer (Nov – Mar), which was the ideal time weather wise, and the vegetation was was in full bloom and growth as well. As noted in my previous post, WIND is the major thing you must contend with in Patagonia.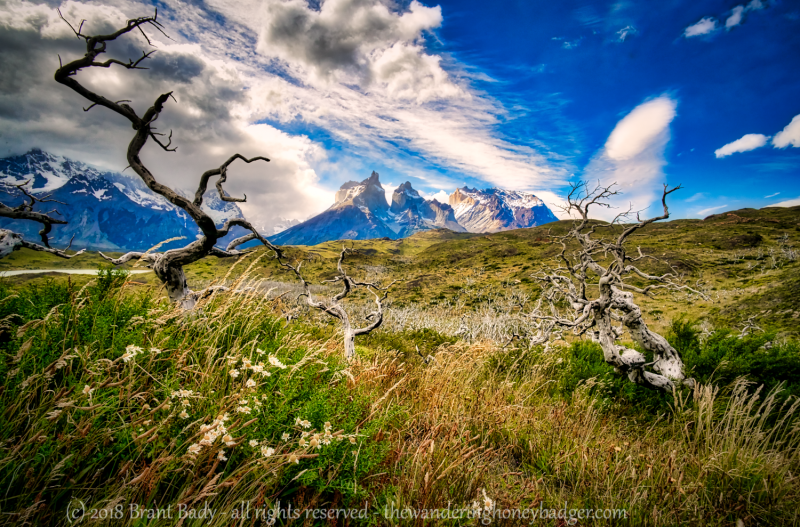 Mornings would start cool at say 10 degrees C in the morning, rising to 18 C in the afternoon. While it certainly rains here, its not like monsoons though.
Glaciers
The major areas that people visit, namely Torres del Paine, El Calafete, and El Chalten are in the shadow of the Andes mountains when it comes to rainfall at least, so its nearly desert many places. However this explains why there are so many glaciers in this general area.. moist air from the Pacific hits the Andes mountains, rises and then dumps rain or snow at the top of ranges, which packs down due to weight and feeds the glaciers…
One of the more unusual Glaciers is Perito Moreno, a day trip out of El Califate. Perito Moreno goes right across the lake and jams up against the far shore creating a dam of sorts, and on occasion there can be a height difference several meters between the two sides of the lake on occasion.
I found the boat tour out to the left hand side of the glacier to be both expensive and frustrating because it was very crowded with limited viewpoints on the boat.
Whereas the boardwalk paths on land at the face of the glacier offered more opportunities for both viewing and photographs, and its possible to take a route that is mostly downhill.
Hiking
My real hiking in Patagonia took place out of El Chalten, Argentina at the Fitz Roy range. While I done enough thinking and planning about Torres del Paine in Chile to be smart enough to hire a guide, I had left things mostly un-researched and unplanned for El Chalten. The flexibility actually paid off cost wise as it turned out I more or less stumbled upon an optimal path that matched my hiking acumen and capability, and took me along a fairly photogenic route.
I had made contact with a local trekking company to discuss the potential routes, and I wound up hitching a ride in their mini-van to a starting point that was about 15 km from town (Hostal Pilar). From there I would walk/hike to a viewpoint of Glacier Piedras Blancas which was a fairly easy hike. I could then return via the same path back to Hostal Pilar and call for an expensive cab ride back to town, or I had the option of continuing on past the main viewpoints of the Fitz Roy range, finishing up back in El Chalten.
The trail was fairly easy actually with not too many uphill sections. There were a fair number of groups of other hikers doing the same route, however there were signs that made it clear – anyone doing the hike accepts the risk of doing it on their own – since there were no park rangers or evacuation staff anywhere in evidence.
I elected to keep on going, as I am loathe to give up territory already conquered – especially in terms of having to go uphill on the way back. The treking office had alluded that it was mostly downhill to continue on this route back to town, and it was still middle of the day so I expected that I had plenty of time. The trail was mostly well marked, and it was pretty obvious as to the route to take.
The photo above is just past the trail turnoff up to Laguna de los Tres – a section that I wisely decided to skip because its a fairly difficult hike.
By roughly the midway point I was starting to get pretty tired (especially since I was carrying a fairly heavy camera and three lenses, on top of some food and water etc.) To keep my mind off the hiking, I started to imagine what would happen if a Puma (cougar) would jump me from behind (they are experts and finding and crushing neck vertebra in one swift bite). In my fantasy, I of course would rise to the occasion in a "Robert Capa" like moment, and in this case snap the pic of my own demise (rather than a dying Spanish soldier being the subject), just before strangling the beast with my camera strap in our mutual last seconds of life… and then to be awarded photographer of the year, posthumously of course.. But NO such luck.. no damn lazy Puma would waste their energy on that trail either (despite the parade of two footed snacks going by), so I had to tough it out, and keep moving forward.
The thought of an epic battle with a Puma wasn't the only thing that kept me going… there was also the thought of a delicious and refreshing pisco sour in the first bar I could find after the trail if the Puma didn't show. At this point it was going to be well needed pain killer because I was starting to hurt quite a bit from the hike.
It was the last section of the trail that validated my overall plan though, because it was quite steep and downhill. Had I started from town to work my way up to the initial viewpoints of the Fitz Roy range, I would have had to deal with several km of seriously UPHILL trail. By driving up to Hostal Pilar and then walking down, it was longer overall, but mostly downhill the whole way.
Obviously I am not the only one who had "apres hike" refreshments on my mind, as there was an open bar just past the parking lot at the edge of town where the hiking trails ended. Unfortunately I had to settle for a Mojito… the bastards were out of pisco just when I needed top notch pain killer..
for metrics.., I have a fitness band that I use to record my steps and assess my activity level
a do nothing day at home.. 4,000 steps..
my daily target at home 10,000 steps..
typical travel day when out shooting 15,000 steps.
previous 1 day record traveling 18,500 steps,
This days hike was a whopping 31,500 steps
I hurt so much over the next few days that I skipped any more hiking.. instead I worked on processing photos and limped my way around town to snack on things like a Flintstones Dino-size Sirloin steak with Chimmichura… burp!
Cougar Sidenote:


historical photo circa 1909, 
GR-03184, BC Archives

In actual fact, where I live has the highest concentration of wild cougars in the world. Almost every spring we have hungry ones wandering into town looking for food in residential and even downtown areas. There have even been recent attacks and fatalities on humans in the general region. But we have so many darn trees and places for them to hide, and they are very elusive animals in the first place, that its much easier to spot one for the purposes of photography in other places like Patagonia.
However if one is going to stalk a dangerous animal like a cougar, even if just for photography, one should know or study its habits a bit. The cougars where I live will jump people… One guy about a decade or so ago saved his own life from the cougar that jumped him from behind by killing with his own pocket knife. Just this year a bit south from here, two men on bicycles were attacked, and one died from his wounds. The youtube link below is to some excellent footage shot in 2018 (ignore the overly dramatic music and the fact that it was a hunter who shot it because he was armed at the time only with a camera)… This is one big healthy alpha predator actively stalking the cameraman. https://www.youtube.com/watch?time_continue=100&v=7y54z0Z4F4U

Personally, animals like to bite me, so I tend to be careful.. But this solution from India is brilliant, and have almost added a face mask to my camera bag..