It's called "Kumbh Mela", and it happens over the course of 2 1/2 months in one of the four different holy locations in India that periodically host this festival on a rotational basis. During that time, more than 130 million Hindu believers make the pilgrimage, with most of the devotees going there for the main purpose of ritual bathing in the Ganges, something they believe will wash away their sins, and get them a step closer to Moskha (the salvation of being freed from the cycle of birth, death, and rebirth). Those attending are comprised of pilgrims, Gurus & Saints, and Sadhus and Nagas (Indian Holy Men), and sometimes a few outside observers.
My Kumbh Mela experience took place over the course of 5 days in early February, and it covered the largest period of attendance called Mauno Amavasya. It was the peak in attendance because on Feb 4 the planetary positions were thought to be most favorable for bathing in the holy river (called a Shari or "Royal" bath), making that period the most auspicious over the whole Mela. The number of actual visitors during that period? Uncountable like grains of sand on the beach! Let us just say that this is the largest periodic religious gathering on the planet, and it happens in Allahabad once every 12 years.

The image above was shot from a bridge looking out towards the area where Kumbh Mela takes place in Allahabad (now called Prayagraj). The festival grounds are actually located in an area of sand banks and temporary islands that are partially or wholly flooded when the monsoons come, but uncovered in the dry season where they are used as a huge fairground and tented city during Kumbh Mela. Officially the location is called Triveni Sangam, as it is the meeting place of three rivers: the Ganga (Ganges), the Yamuna, and the Saraswati (a mythical river, which is believed to have dried up many millennia ago).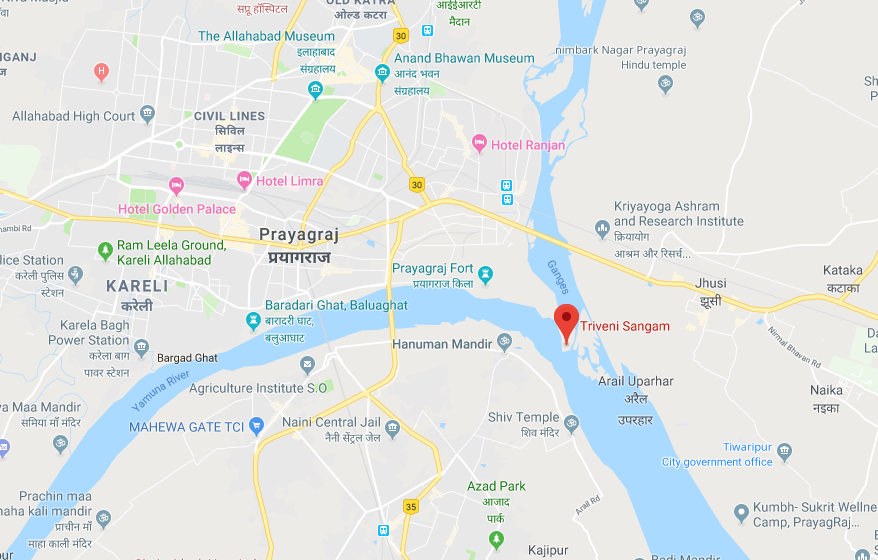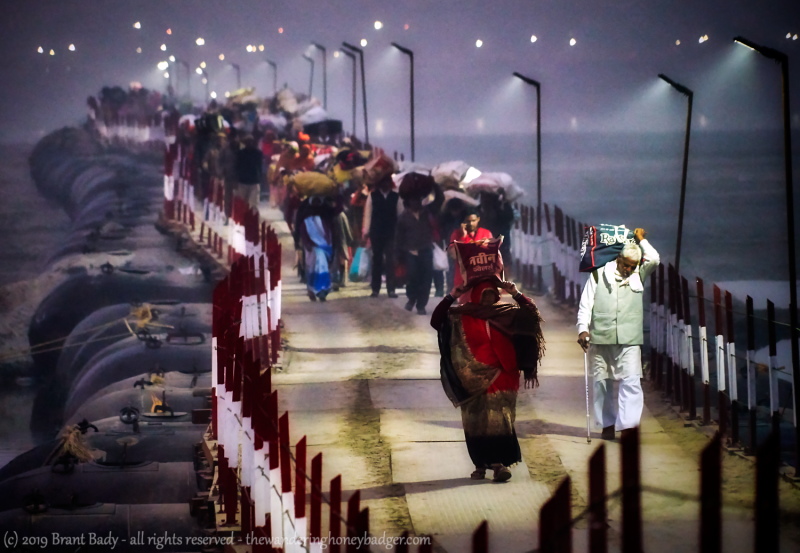 Devotee's carrying in their "luggage" to the festival grounds.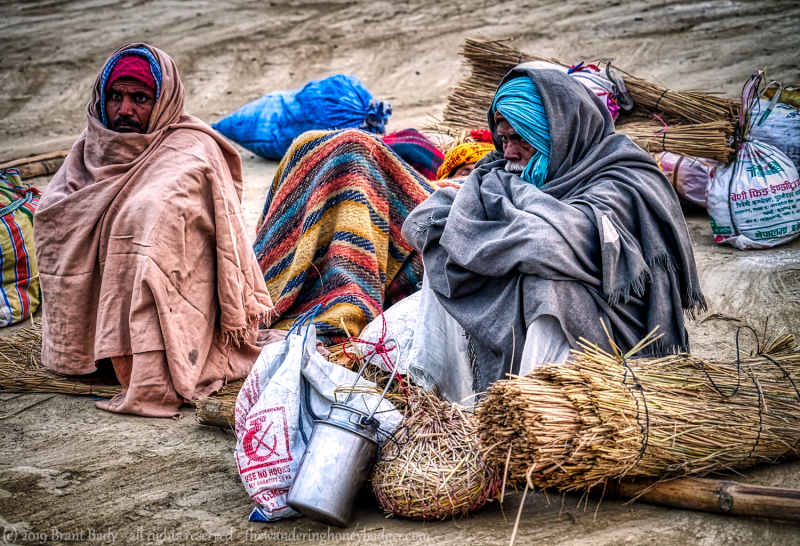 Luckily for me, Kumbh Mela was also right in middle my path/route, as Allahabad (now called Prayagraj) is located in-between Varanasi (another very holy place – a city that was called "ancient" way back when Buddha actually walked the earth), and one of the premier National Parks for viewing tigers called Kanha National Park that I was due to visit!

Varanasi is a very popular (and important) pilgrimage unto its own, as one can see there is a ceremony called the "Arti" that happens at one of the Ghats (the steps that line the shore leading down to the Ganges river itself) every evening, and is performed by Brahmin Priests.

Close by to the Arti Ceremony, the worshipers will go right down to the waters edge and take their "holy dip" as the woman below is doing.. normally its a quick dunk, particularly when in the middle of winter because the water isn't exactly warm.

For Hindus, bathing in the Ganges is a special rite of devotion, not only is it believed to wash away a person's sins, but its also though to facilitates Moksha (the liberation from the cycle of life and death)

As a visitor, this would be a religious experience of a lifetime, perhaps in more than one way. The issue is not only drinking this water directly out of the Ganges (purposely or inadvertently), let alone just bathing in it, could be like playing Russian roulette with your immune system. The Ganges has a significant problem with pollution due to contamination by human and industrial waste. Apparently, in some places, the fecal coli-form count has been measured up to 100,000,000 MPN (most probable number) per 100 ml. Just to compare, the safe level for bathing/swimming is about 100 per 100 ml, and the safe level for drinking water is normally none, but in India the standard can be up around 50 or less. Obviously, the readings will vary place to place along the Ganges, from season to season, and wherebouts in the stream the samples are taken (center of the river has faster moving water, hence it "flushes" more). But if that doesn't put you off, be warned its the middle of winter during this festival, the water is darn cold (the temperature range for the Ganges is 10 to 15 C. At least in my estimation, rather than bathing in the Ganges, it's more prudent to participate directly in one of the other myriad religious traditions in India. Like getting in touch with your own inner Naga (one type of Hindu Holy Man), but not by going naked and painted in white ash, think instead of just chilling out with a Bhang Lassi, coupled with studying and learning a bit more about the culture and its religious traditions.
Logistics
While I have traveled extensively around portions of India (done over two trips for a period of 5 or so months, and done almost exclusively via my own planning and logistics), visiting Kumbh Mela is NOT something I would recommend doing on your own.
In this case, I utilized the services of an Indian based photography tour company (Indian Photo Tours), as I had joined them on a couple short excursions before, and found they offered expertise in both the logistics and local knowledge. The tours are mentored by a renowned Indian photographer named Dheeraj Paul. I always learn something from Dheeraj, even though I was taking photographs as a teenager when he was just a toddler in diapers. We actually believe though that he was born from his mother's womb with a camera in his hand, as he comes from a family of skilled Indian professional photographers.
I also wanted to note that almost all of the other photographers on this expedition were also Indian nationals themselves, looking for similar assistance, so I wasn't feeling shy about taking this option. The other benefit was that the other photographers provided some company and camaraderie of like minded individuals, whom I have always found to be quite open about sharing information on locations and places that photographers might like to visit etc.
The Tour company had arranged accommodation at a private & comfortable tented campground on the southern edge of festival area, and also had vehicles arranged for getting "near" the festival grounds. However, I had doubts though about their plan for me to meet them at the camp directly, and that concern was well founded, although in the end they did get me to and from. I arrived Allahabad the day before, the morning of meeting took an UBER car to get to the campground that I had in my google maps. The great thing about using UBER in India is that the driver gets the intended destination electronically and can use their mobile to navigate. It means much less of an issue about "finding" specific locations as long as the pin on the map is actually accurate. As we left from the center of the town (a 13 km trip) and got closer to the area the festival was occurring, the traffic became significantly more problematic. At 5 km out from the camp, the roadway was packed with both vehicles and people walking carrying their gear (food, bedding, personal items needed for their visit). Then disaster for me – the Indian police closed the entryways down to the campgrounds to almost all vehicles.
My UBER driver pulled over to the side of the road so we could figure out what to do and was immediately accosted by the police and told to MOVE ON. He really was between a rock and hard place as I was trying to insist he head down one of the roads towards the camp, and the police were threatening him vigorously to get out of there. I decided that this was as far as I was going by this means, so I got out with my two suitcases and paid him, just before he immediately sped off. No point in arguing about "conditions of carriage", I was on my own for the moment.
It looked "possible" but very awkward to walk the 5 km towing my suitcase on the road and my 15 kg camera backpack. But of course, one just had to look left or right to see many other people carrying their bags of personal goods as well.
I seriously thought about walking, but instead, I called the mobile number of my pals from the tour company, the first issue being to try to tell them where I was exactly. Luckily a number of the local people who were also along the road, as well as another policeman involved in traffic control were able to assist in giving my tour contacts the location, and they eventually sent a couple of their guys with a vehicle to pick me up. Apparently I wasn't the only one who had some issues getting to the camp. None-the-less, the adventure was definitely afoot!
Day One – The Scouting Mission for Eccentric Characters "I've a feeling we're not in Kansas anymore".
The Naga of Cool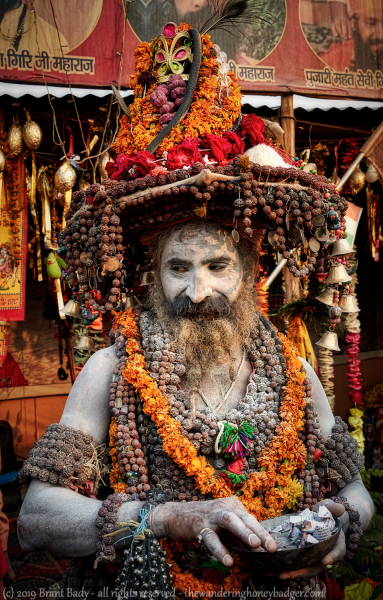 This Naga actually has two white rats who nest and live on his hat – the white patch on the RH side of the hat are the rats!
Peacock feathers, like the bundle this Naga above is using to give blessings with, are often seen in Hindu religious ceremonies as they are considered very auspicious. They are even in homes where they relied upon to bring good luck and prosperity!
Testing out a new high quality, fast, 24mm prime lens, it required me to get very close in order to fill the frame with a subject, so I was very sensitive to watching the Naga for any hints that his personal space was being intruded upon – it was all cool though so I took the shot. The advice I received was that Nagas can be quite unpredictable and occasionally a bit dangerous, and the law is unlikely to hold them to any account, so in addition to being respectful, one must be careful and watchful at all times.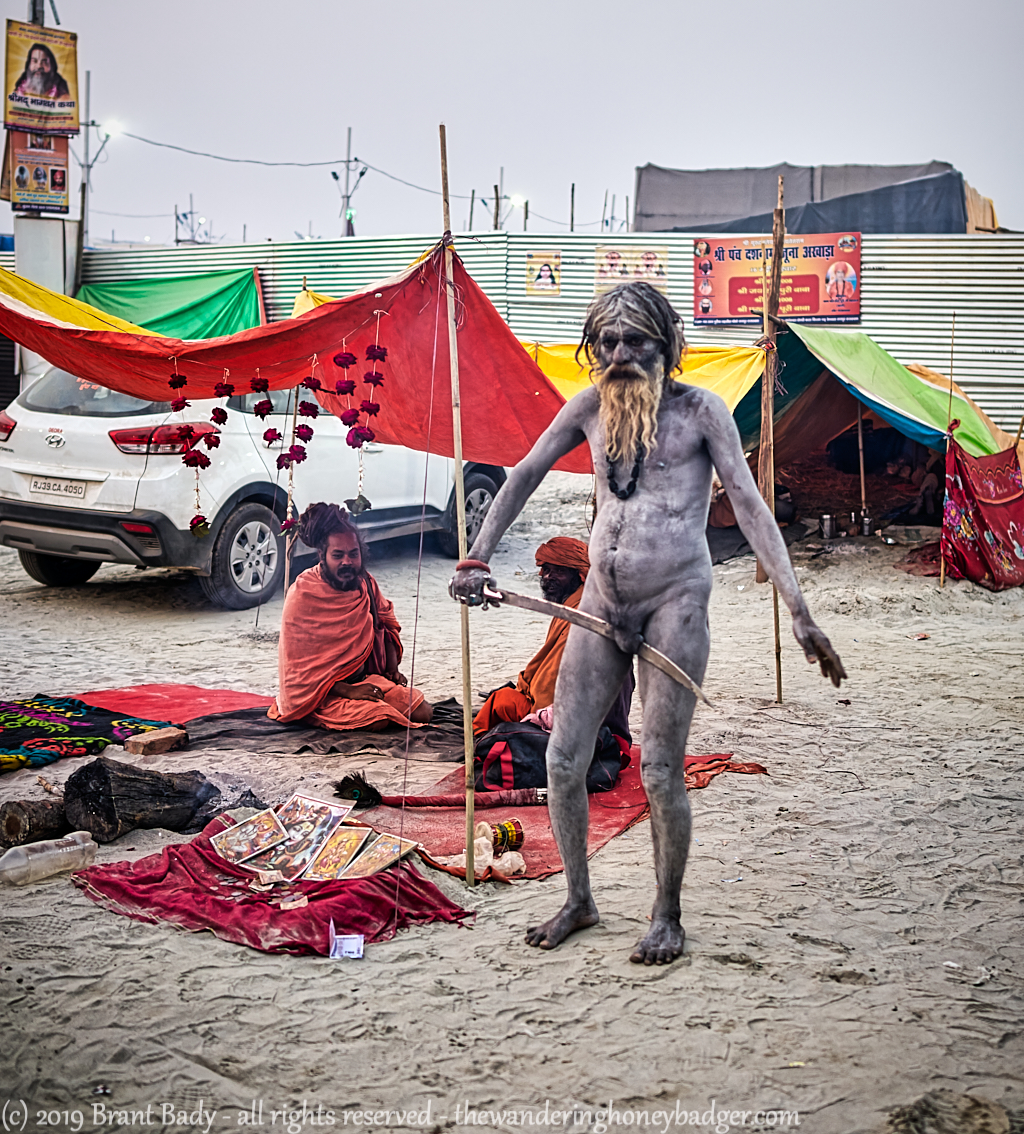 This particular Naga above is demonstrating that he can roll up his genitals using a sword. See also: a much more comprehensive description of Nagas. (for example, the uber-adventurous and not-so-squeemish might want to read more about Aghori sadhus here).
Day Two – Packed with Pilgrims
Given that the following day was to be Mauno Amavasya, and that day happened to be a Monday, its importance increased by infinite magnitude. Hence Allahabad was being flooded not by the Ganges at this time, but by a rising tide of pilgrims.
Some of the other activities undertaken during the festival include devotees sitting and listening to Sadhus & Gurus on matters of spiritualism and religion, prayers, and singing.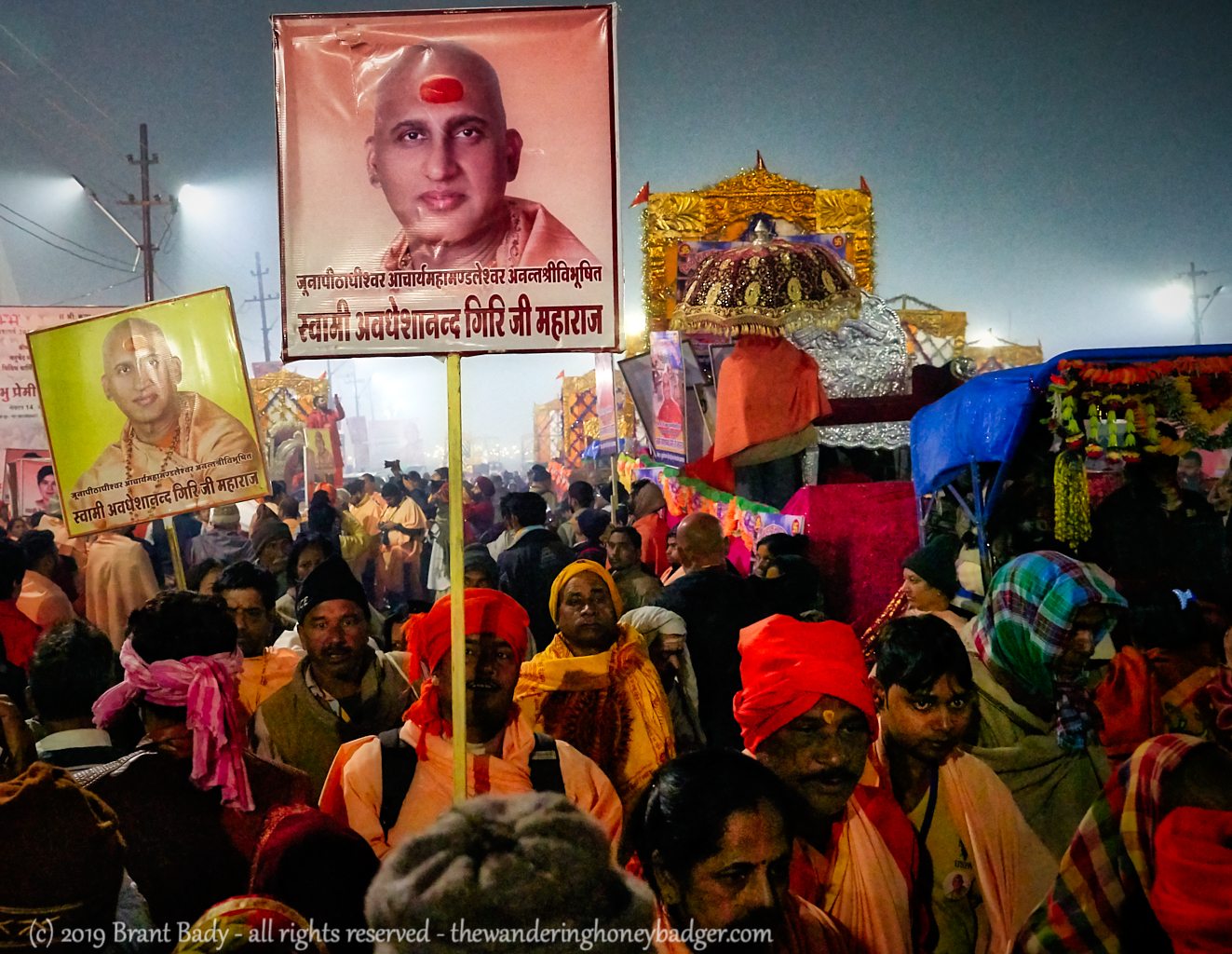 Followers show their support for a specific Guru / Sadhu.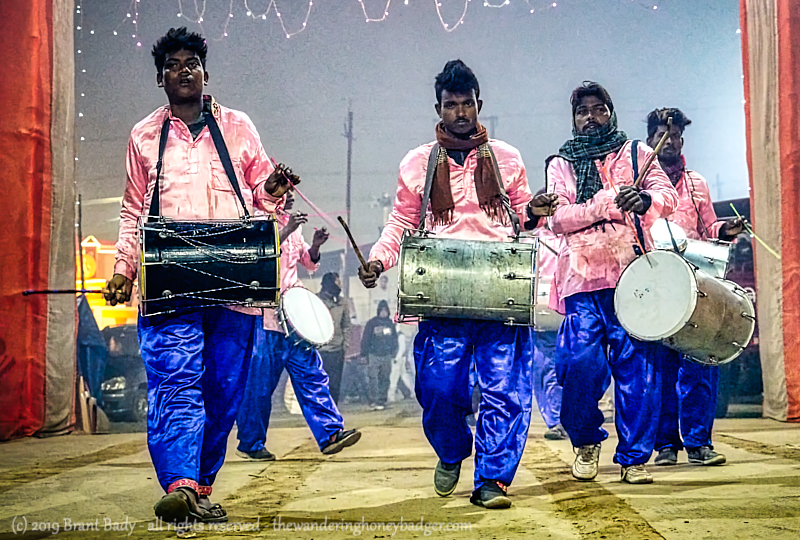 All Gilt and Flash – A Drum Band Marches the Fairgrounds
Day Three – The Lineup for Purification of Soul and Body
We actually got up just past midnight, in order to get into the line up for the main bathing event, that would take place in the morning, starting with the rush of Nagas into the water. Driving in part way, we walked the last few kilometres into the fairgrounds, which were packed with people similarly wanting a good place in the procession line up to the water. We got to the core eventually and grabbed a place in line, but it was going to be hours and hours of just waiting hanging onto all our camera gear, with no room to easily move around and take photos, and literally no where to sit comfortably. My back was giving me serious issues at this point.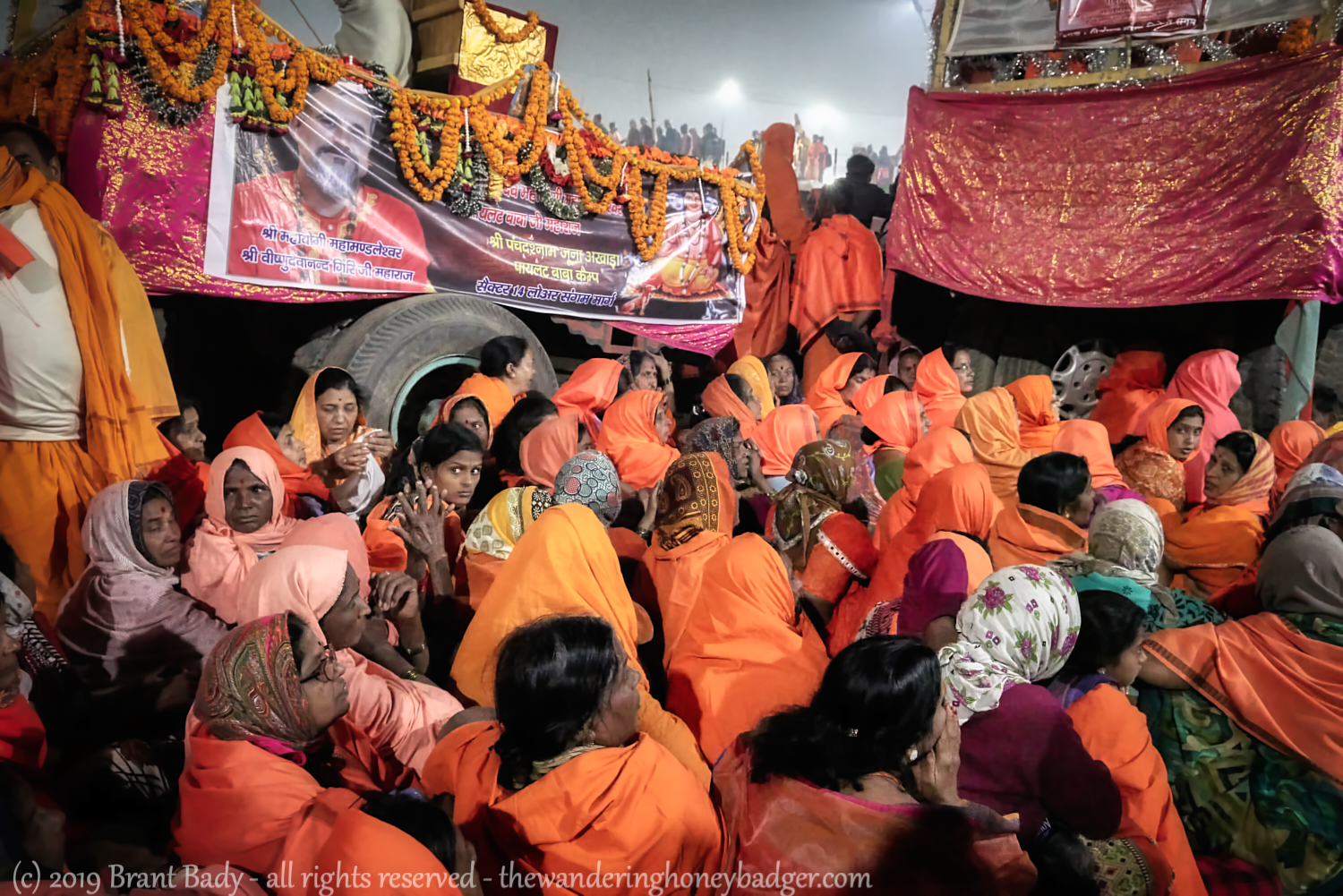 Now from a tactical point of view, and from living well past my allotment of just nine lives, I actually do know that this is a really lousy place to put myself in, right in the middle of a crush of people, with no way to easily escape, either in an emergency or otherwise. I might also add that having ridden almost all forms of transport in India, I learned from a few bruises that the locals are quite adept at using heir elbows to "make room", especially since the apparent social rule is "that there is always room for more people on any particular vehicle". In contrast, in all my travels around the Indian sub continent, I NEVER feared for my safety walking around with regular and local people. In fact having visited more than fifty countries around the world, I must say it is a tight contest between Indians and Bangladeshis as to who are the most friendly people I have ever met in all my travels. So in actual fact I at that particular moment I was actually pondering how it interesting it would be to get an overhead drone shot of the meandering procession line weaving its way across the festival grounds.
These Nagas up on the bridge could have been near the front of the procession, as the Nagas lead the bathing event by being first in.
I hung in the procession line until about 6 am, by which time the crowd was starting to get very unruly in anticipation and tired of their own waiting, and I agreed because my back was nearly going into spasm which could have left me incapacitated in a difficult place to try to hobble out of, or even just stay out of the way of when the apparent stampede to the water was going to take place.
So I calculated the odds, and decided to walk out on my own, rather than wait another 3 or more hours, and then walk out. Luckily I had memorized the look of some of the landmarks, and I could use my google map position to find my way. I got back to the camp by 9 am and collapsed into bed to a) rest and recover my back and b) get some sleep. My cohorts started to trickle in over noon and the early afternoon. A couple of the Indian photographers confided to me that they figured I had made the best choice. Apparently it had gotten quite unruly in terms of the crowds and the participants. In fact, I found out one photographer who had been waiting in the water, up to his knees, for the rush of bathers, and got trampled by the rushing line of Nagas… He went right underwater, and lost one of his two cameras.
A calmer time. Image Courtesy of Devinasch at English Wikipedia. [CC BY-SA 3.0]
Day Four – On Our Own
Our last day at Kumbh was scheduled to be light, in that we didn't have anything planned by our tour company. Rather than spending the time editing and reviewing photos, a small subset of the tour group decided to press on back into the fray on our own, always hunting for new image taking possibilities. Alas no transport was arranged, so we needed to walk the whole route back to the festival grounds, but that in itself offered plenty of photo opportunities and in some ways more variety of subjects. We even hired a boat to tour the festival grounds from the water side for a bit, and it got us closer to the main grounds again, which that day (the day after Feb 4th Mauno Amavasya peak) were nearly deserted.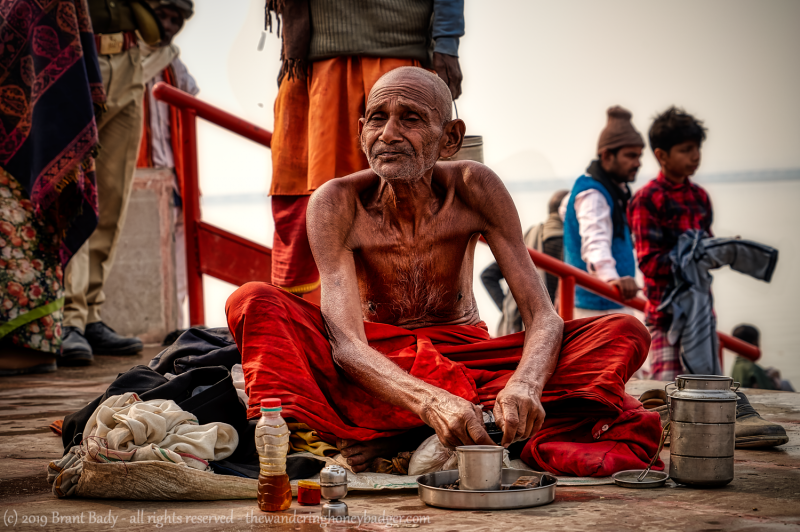 Post bathing ritual – preparing some mustard oil for a burning offering.
The Self Sufficient Pilgrim – This gentleman appeared to be carrying his whole kit – all that the needed for his journey.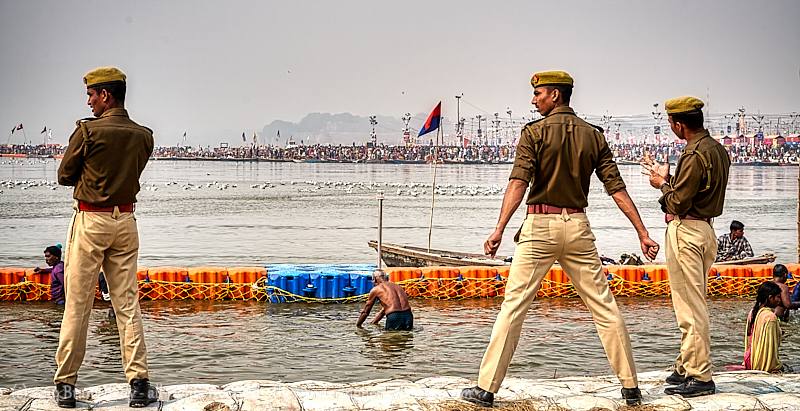 "Restlessness" – A slow day at Kumbh Mela for India's Masters of Crowd Control.
India's Police are indeed the Masters of Crowd Control given the huge numbers of people that they manage in that regard. However the day after Mauno Amavasya, the fair grounds were nearly deserted on this section of the shoreline, leaving them with merely keeping a watchful eye on the bathers – who are performing their ablutions in a cordoned off area. One can see across the water way that even on a slow day, some sections were still packed with people.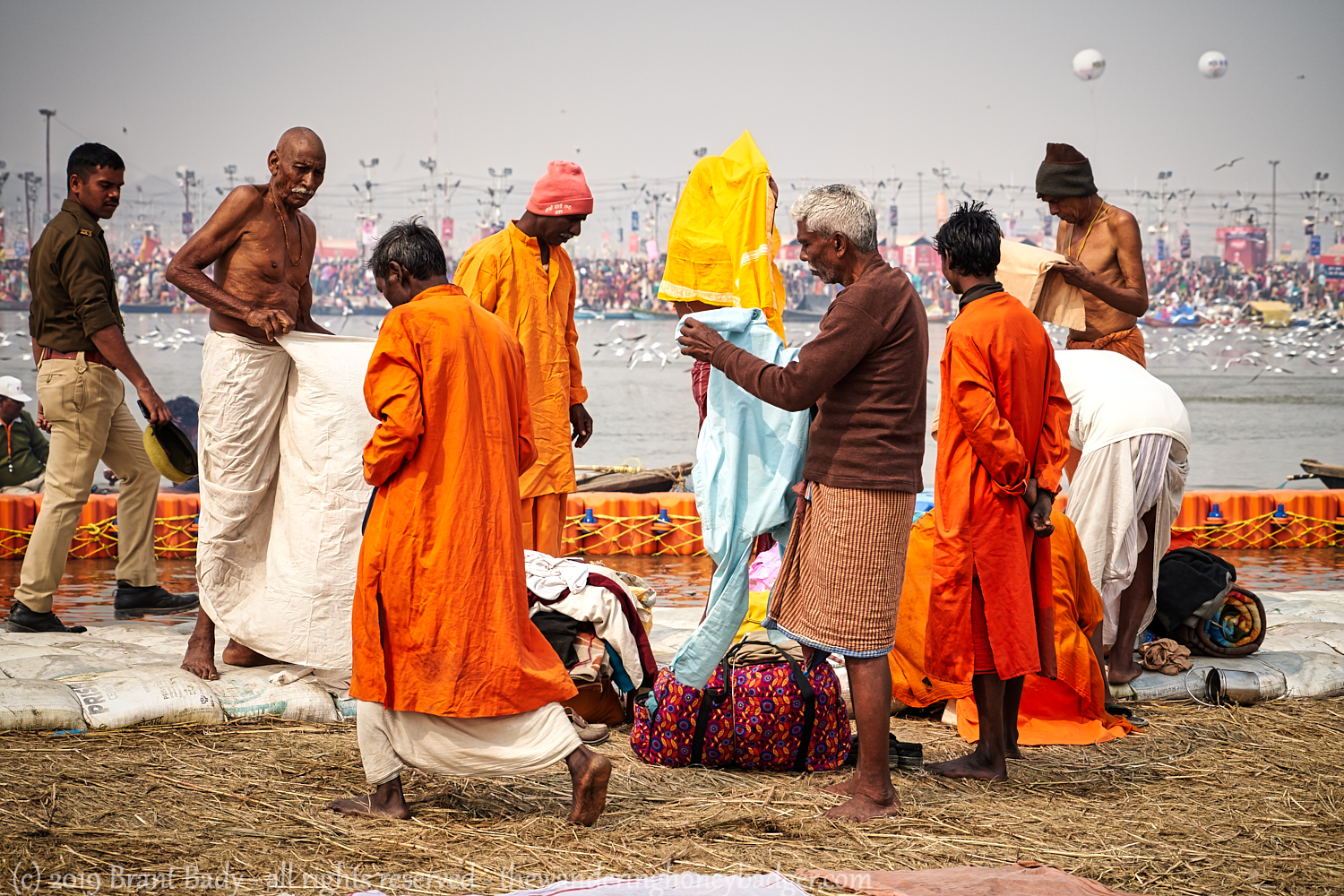 Escape from Allahabad
It was early evening of our fourth day, and our tour company had things well planned for our exit of Allahabad via the train station, but the crowds in town of people leaving Kumbh Mela were enormous, given the big peak in attendance had been only the day before. We had two private vehicles to get us to the train station, but as we got close we found out that the Indian Police had blocked off all the roadways leading to the train station from motorized vehicles (the rationale of this tactic escapes me a bit, but I reckon they know the situation better). So the huge traffic jams didn't occur right at the station, but within a 1 km circle of the train station. We had to unload our bags and hire a luggage cart to move our gear while we walked the last stretch to the station.
The train station itself was just packed as a sea of devotees who were also leaving Allahabad the same approximate time we were. Many would effectively just camp at the train station waiting for their particular train to arrive… given that it was winter, many will bring heavy blanks and just wrap themselves up to keep warm. In some ways it's a touch unnerving see all the wrapped up, but live bodies reclining on the station floor.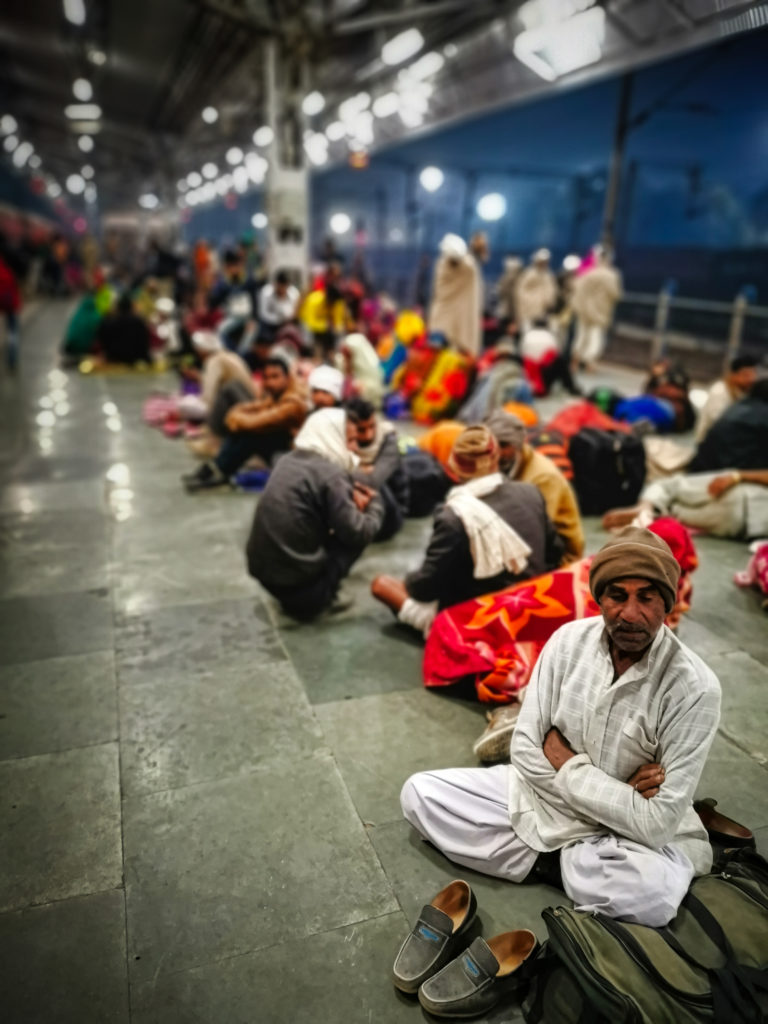 Having survived Kumbh Mela intact, I was happy to jump on the train, as the next stop was the first of three National Parks for the purpose seeing and photographing Tigers!