This is Part 2 of "On The Tiger Trail – How I Spent My Winter on Photo-Safaris in Northern India"
Where to Go
India has the largest population of tigers (two thirds of the global total), and the most accessible national parks. In fact, India has dozens of national parks where tigers can be sighted, but picking the right one can be tricky, and everyone has their own opinion and favorites. Not necessarily in order of preference, here are some of the best based on others people's experiences and my top three are the top three on this list as well:
– Ranthambore National Park, Rajasthan
– Bandhavgarh National Park, Madhya Pradesh
– Kanha Tiger Reserve, Madhya Pradesh
– Tadoba, Andhari Tiger Reserve, Maharashtra
– Jim Corbett National Park, Uttarakhand
I can also highly recommend a safari trip to Kaziranga National Park, way up in the north east of Assam State. You will be sure to sight Indian One Horn Rhinos, and often close enough to photograph with a modest focal length telephoto lens. As well, Kaziranga has groups of wild elephants, a large variety of birds (if you are into that), as well as a few other interesting species, in my case water buffaloes and a pack of marauding otters scampering across a plain. Kaziranga actually has one of the highest densities of wild tigers in India, however the very dense tall grass makes sighting them very difficult to occasionally dangerous. Since I had enough Rhino shots in the can, I did spend some of my safari time there (over 3 1/2 days) optimizing the time and location for sighting tigers. Alas, we missed out by a mere 10 minutes on one sighting, and the observers who were lucky enough to encounter the tiger were not able to take any photos. While Kaziranga is definitely a bit out of the way being far up in the North East in Assam State, an added bonus is that Kaziranga can be considerably more affordable in safari costs than many of the other National Parks, and a lot of advance planning and booking is not required.
I have had the best (and the worst) luck at Ranthambore National Park, and as a photographer I find that location superior to the others, in that, when you do see a tiger the animals are usually not obscured as much by undergrowth such as bamboo and other jungle cover. Elsewhere, in many other parks, the jungle growth is an all too frequent impediment to getting a clear view and good photographs.
When to Go
I seem to always wind up in India over the winter months (since I am escaping the much colder winter at home), and while the frequency of sightings in winter are acceptable, in actual fact one of the best times to go is in May up until the middle of June. The rational is that at that time of the year, it is the very end of the dry season; hence the water sources are nearly depleted, forcing all the food animals to cluster around the few remaining water holes. This makes the prey easier pickings for a buffet by the tigers.
The other reason for visiting at that time of year is that since the temperature is stinking hot – well into the mid forty and up into the low fifties degree Celsius range / 115-125 degrees F – it's so hot that the tigers often are just sitting around lounging in the water pools trying to keep cool.
My excuse so far to my Indian friends for not visiting at that time of year is that, at those temperatures, I would be fighting with the tigers for room in the water pools in order to cool off myself, with a likely bad outcome for myself.
The monsoon normally starts in mid June, so when it comes, visits to the National Parks drop off substantially, but its still important to have some visitors in order to keep a few pairs of eyes on the tigers and to discourage poachers, as there are not enough park rangers to go around.
No Palanquins Here My Friends, Just Cantors, Gypsies, Land Rovers, and (sadly) Elephants
Image Credit: Anne S.K. Brown Military Collection at Brown University
So on a tiger safari, you would be unlikely to be carried around like a maharaja, king, or high official on a palanquin, and you certainly don't get the opportunity to walk around loose on the ground.
Normally you are in the somewhat protective ambience of a vehicle, like a jeep (called a Gypsy based on the vehicle brand/model) or an open top bus (called a Cantor). In India, the safari jeeps are small, and not nearly as comfortable as the kind of extended Land Rovers used for safaris in Africa, but they are quite maneuverable, and indeed they do get maneuvered!
In contrast, the Cantors are slow moving, noisy, and of course crowded (but cheap).
Sadly, some national parks in India, still also offer safari's on the backs of elephants (Kazaringa for example, due to the high grass). However this activity should NOT be supported due to what the elephant has to endure in training in order to be relatively safe enough for people to ride.
The important aspects about a jeep are a) the guide and b) the driver, so take into account that you do not always get to select your specific guide and driver. For example at Ranthambore, these factors are determined randomly, along with which sector of the park you will be restricted to exploring for that particular three or so hour safari. In other locations, you can retain a specific driver at least, and sometimes a guide as well over the duration of your visit. The way it generally works in India is that the drivers are private/freelance, working for a transport group, or attached to a hotel, and the Parks generally assigns the guides.
If you get a driver who seems: crazy in his driving, is very aggressive in positioning and maneuvering about other jeeps, almost makes you physically ill due to motion sickness when you are out on the road, and doesn't seem enamored with his cell phone – then hang on to him or her, they are the one you want. You are sure to get banged up a bit in terms of bouncing around the vehicle, almost to the point where you would consider full body padding… but the tiger viewing opportunities are likely to be better. Seriously, the more you are bruised, the better/harder your driver is trying to get you a great sighting. It would appear from observation that traditionally guides and drivers in India have been the exclusive profession of males, but at least in one park I visited, there was an active program to start to attract, train, and deploy female guides!
The Tigers Rule
At least in the parks I have been to, the tigers seem pretty much unimpressed about humans, and humans in vehicles are even less of a distraction, as they will walk right beside and around a vehicle. Rarely do they try to interact any further, but it's always possible. Females with cubs are much more cautious, and these tiger moms will not generally expose the cubs to any kind of potential uncertainty, even vehicles, but it happens on occasion. In general, the tigers seem to be absolutely aware that they are the true kings of this particular jungle.
Safari Planning Tips
A single safari is likely not going to do it in terms of guaranteeing that you will sight a wild tiger. To have a reliable chance, you probably need to book somewhere between four and six half day safaris, or just be lucky if you plan for less.
Many of the National Parks require forest permits for visitors to be acquired in advance, so think about planning months in advance.
While it is possible (via hunting around online, and making lots of inquiries) to get the contact details of local guides, and let them make the necessary arrangements for permits and vehicles, choosing your accommodation first and letting them make those arrangements is often easier and more efficient. However, even the resorts and hotels tend to assume that you will be able to get yourself to their location. Since many of the parks are by necessity far away from urban centers, transport to and from the park can be very limited. Unless you are well versed in getting yourself around India via train and/or private car, packaged tours tend to be the most convenient solution (just make sure you have enough safaris included in the program to ensure your success).
In my case I was coming in by train from a station nearby a different tiger sanctuary. My Hotel had treated me quite well (it turned out to be the same hotel, the Ranthambore Regency, that I had stayed at previously, and I knew that it would be comfortable, and a good restaurant as well. they even had a porter escort me all the way onto the train and assist in finding my seat (although he and the train porter actually got it wrong, to my embarrassment when the real ticket holders had me chased out via the conductor back to a lower class. I reckoned he had got it wrong, but based on past experience, better to ask forgiveness than permission.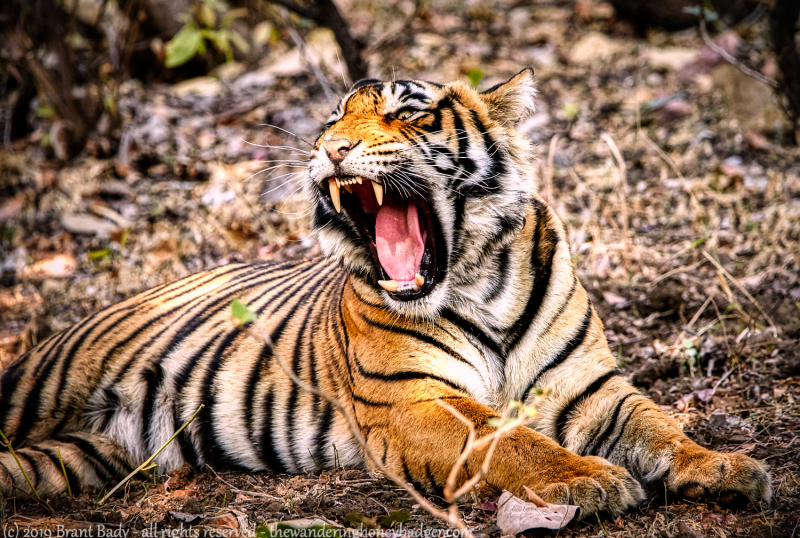 Dressing for Success
Unfortunately the range of temperatures experienced over the course of "winter months" ranged as low as 5 degrees C, with it effectively getting down to 2 degrees C due to wind-chill while riding in the back of a jeep at Bandargarvh. In addition to having and wearing thermal underwear, my strategy was to use the hot water bottles and blankets provided by my resort accommodation. I found that by inserting a hot water bottle on the inside of my coat/vest, it would warm my core for a long time (rather than holding it or sitting by it where it would lose its heat very quickly).
On the hot side, afternoon safaris (especially full days) in Ranthambore for example, could be more challenging than you anticipate, so like most travel planning, having and using optional layers of clothes is a good strategy. Leave the "panting" for the tigers, it's their show anyways.
Besides keeping warm or cool enough, avoiding dust is another practical task. Use a "buff" or fabric pull-over face cover, or even a medical "germ" mask, as needed, to mitigate the effects of the dirt roads are often dry, dusty, and stirred up by jeeps and vehicles. You should take comfort in your belabored breathing though, because dry dusty roads are perfect medium for tigers to leave imprints of their paws, and your guide will be using that along with listening for distress cries from animals like deer, monkeys, even birds. These signs will all give evidence that a tiger is in the vicinity.
See the link below to "On The Tiger Trail – Part 3" to learn more about how to find a tiger, tiger behaviors and telltales, photography tips, and finally a some thoughts on tiger conservation issues.