Perhaps a silly premise, who could ever possibly get tired of tigers? Ha ha, but it is worthwhile to note that India has more than just tigers in terms of exotic animals. While my winter safaris in India were most certainly focused on viewing and photographing tigers, I did manage to squeeze in a couple of other safari experiences, namely rhinos up in the Assam region of North East India at Kaziranga National Park, and also a bit of a human safari of sorts by going to Khumb Mela at Allahabad which I will cover in the post after this. I also wanted to note up front, that Kaziranga was declared a World Heritage Site by UNESCO in the year 1985 – so its a very special place unto its own.
Unfortunately I had been skunked in Africa the previous summer by not sighting any rhinos (I did see four out of the "Big Five" and quite a few of the "Ugly Five" as well in Kenya and Tanzania, so the African safaris were totally awesome in their own way), but I still had that lingering feeling that I had missed out because of the rhinos not being around to view.
Going on a rhino safari in India offered the opportunity to see these one horn versions, and also it gave me a chance to explore an area of India that was new to me – the upper North East, in which I covered Sikkum, Assam, and Meghalaya.
Getting to Assam
So Kaziranga National Park is the ideal place to see and photograph the Indian One Horn Rhino, as they are plentiful there, and the viewing conditions are normally pretty good. It is a bit off the main tourist track in some ways, being located in the little pocket of territory that sits above what is now Bangladesh, wedged in beside Myanmar, and having borders with Tibet and Bhutan, and containing the Indian states of Sikkim, Assam, Arunachal Pradesh, Meghalaya, Nagaland, Manipur, Tripura, Mesoram. If are puzzled by the layout of the borders, thank the British and their confident but amateur Boundary Commissioner, Sir Cyril Radcliffe. The layout being called the Radcliffe Line. Its a part of the well history of India that is well worth learning more about!
The challenge in getting to Kaziranga is that the nearest airports are located in Guwahati or Jorhat or Tezpur. The Guwahati to Kaziranga route, you can get close by train or regional bus (once a day) but a taxi or private driver will get you the closest, i.e. portal to portal. Its worth checking with your arranged accommodation to see what they can suggest (noting that there isn't a huge selection of places to stay near the park, but enough can be found online to make it doable and to have some choice).
The great news about Kaziranga is that, at least for the moment, no special forest permits are required for safaris, one can just show up at the jeep pool near the gate entrance and secure a vehicle, driver-guide, pay the entry fees (which are generally much cheaper than the other National Parks), and off you go on your safari. Note that you can pick which section you wish to enter into rather than it being randomly assigned, and there are four different sections: Central Range, Western Range, Eastern Range, and the Burhapahar Range (they do have slightly different entry fees).
Raging Rhinos
So while tigers are normally pretty "chill", the temperament of rhinos appears to be quite the opposite – at least to me they seem very irritable in general. The first "Rhino Rage" instance was a young juvenile rhino that was near the road as we were exiting the park late one afternoon. We stopped the jeep to photograph him, and he immediately started stomping around raising dust and trying at least to look aggressive.
It certainly wasn't about to charge a us, but he was obviously staking out his territory and making it known to us. Luckily the sun was nearly directly behind him to illuminate the dust and add drama to the photo.
Over the course of the next four or five days, I would see plenty of rhinos.. predictably they could be viewed almost always from quite a distance away over the short grass and patches of water, but even with my long lens that was still too far away to capture them in a good image. Luckily the rhinos would also hang out closer to road, such as one place I nicknamed "Rhino Corner" as there was normally a large male and a few cows hanging around, munching on the short vegetation.
What I started to notice was that a lot of these rhinos appeared to have actual wounds.. often on their sides, despite all the apparent armor their skin provides, and the wound was a stab wound from a rival rhino.
One day while sitting at "rhino corner" snapping a few shots from the jeep, two park rangers who were walking on foot came down the road and just cleared the brush. The rhino I was photographing was well off the side of the road, but took immediate exception to the two wardens and started to charge them. The wardens do carry rifles (for poachers, and to protect themselves in extreme cases). In this case the rangers knew the proper response and had the situation completely under control. One of themn quickly pulled out a slingshot and and bounced a small rock off the side of the charging rhino, which worked perfectly – the rhino halted his charge immediately and went back to grazing like nothing happened.
My guide also showed me a photo on his mobile that was just snapped the evening before, it was close up of a park wardens hand that had been impaled by a rhino's horn the day before. It was pretty graphic (with all sorts of flesh hanging out from the wound) and good reminder as to just how dangerous a rhino's horn can be!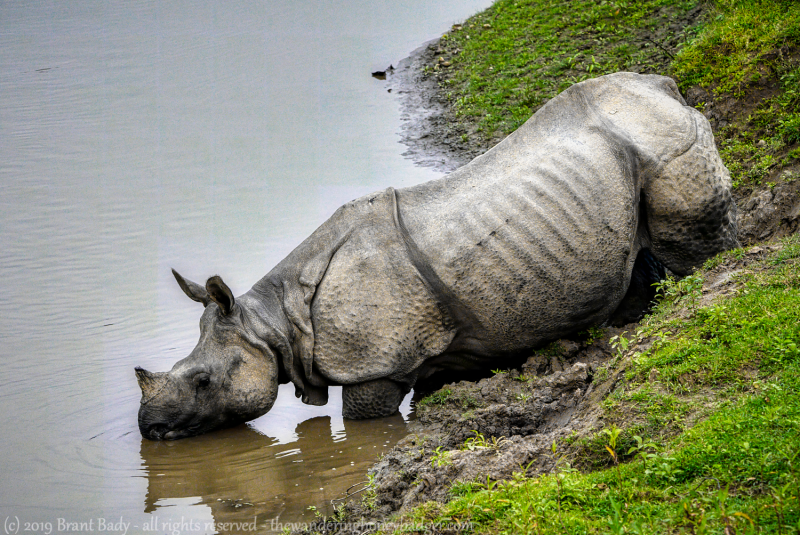 Other Diversions
In addition to the rhinos, there were also lots of elephants, some domesticated like these that would provide transportation for the park rangers – but also SADLY, some elephants used for giving rides to tourists – something I am dead set against.
In this case above, the domesticated elephants are transporting sugar cane for their own food, directed by park rangers – (the smoke in the background is the elephant grass being purposely burned to stimulate new growth).
However, there were also frequently sightings of wild elephants that roam the park. The wild elephants are a little bit wary of people and jeeps, in this case the Matriarch of the herd checked out the road in advance to assure that it was safe for the little one (and the rest of the herd) to cross the road.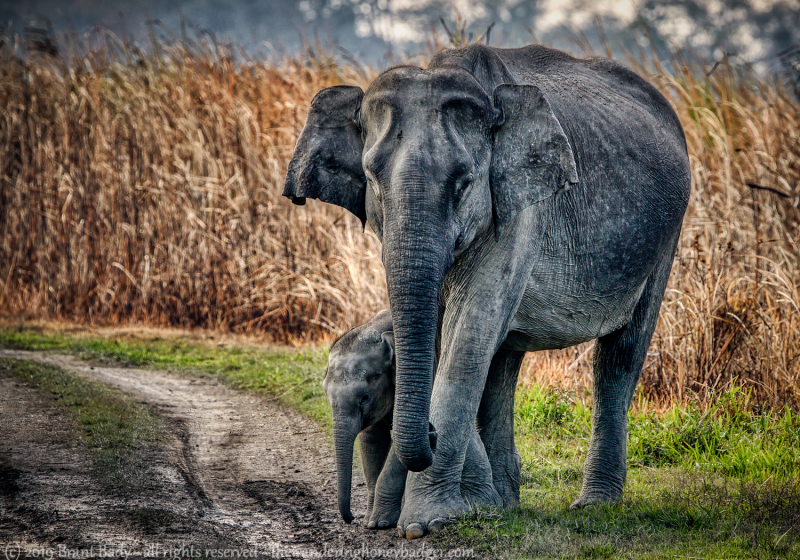 This female below was busy feeding alongside a road when we pulled up, and then noticed she had a calf with her. She continued to feed in the ditch along the road, moving close and closer to us, and when she thought we were too close, she let out an extremely loud but low frequency growl that was a clear message to us to get the heck out her way – which which did ASAP.
One day late in the afternoon as we were working our way out of the park, my guide Biswajit suggested I take a photo of the actual sunset. In response I just laughed and said "any fool can snap a picture of a sunset – lets 'make' a photo that is unique and interesting". Just outside the gate we came across a rice paddy, and I had him stop immediately, I ran down to the side of the road to get as low as possible, and started shooting… and then, like magic, a group of people decided to cross the rice paddy in a kind of end-of-the-day commute, and I had my photo for sure!
Another day we were motoring down one of the dirt roads in the Central Range, and through a gap in trees looking out onto a bit of a plane, and my guide spotted a group of a half dozen or so otters, who were scampering across (sorry no pic that was sharp, they were moving too fast and were too far away).
My guide Bishwajit Chetry (on the right), and his good friend who is a park warden.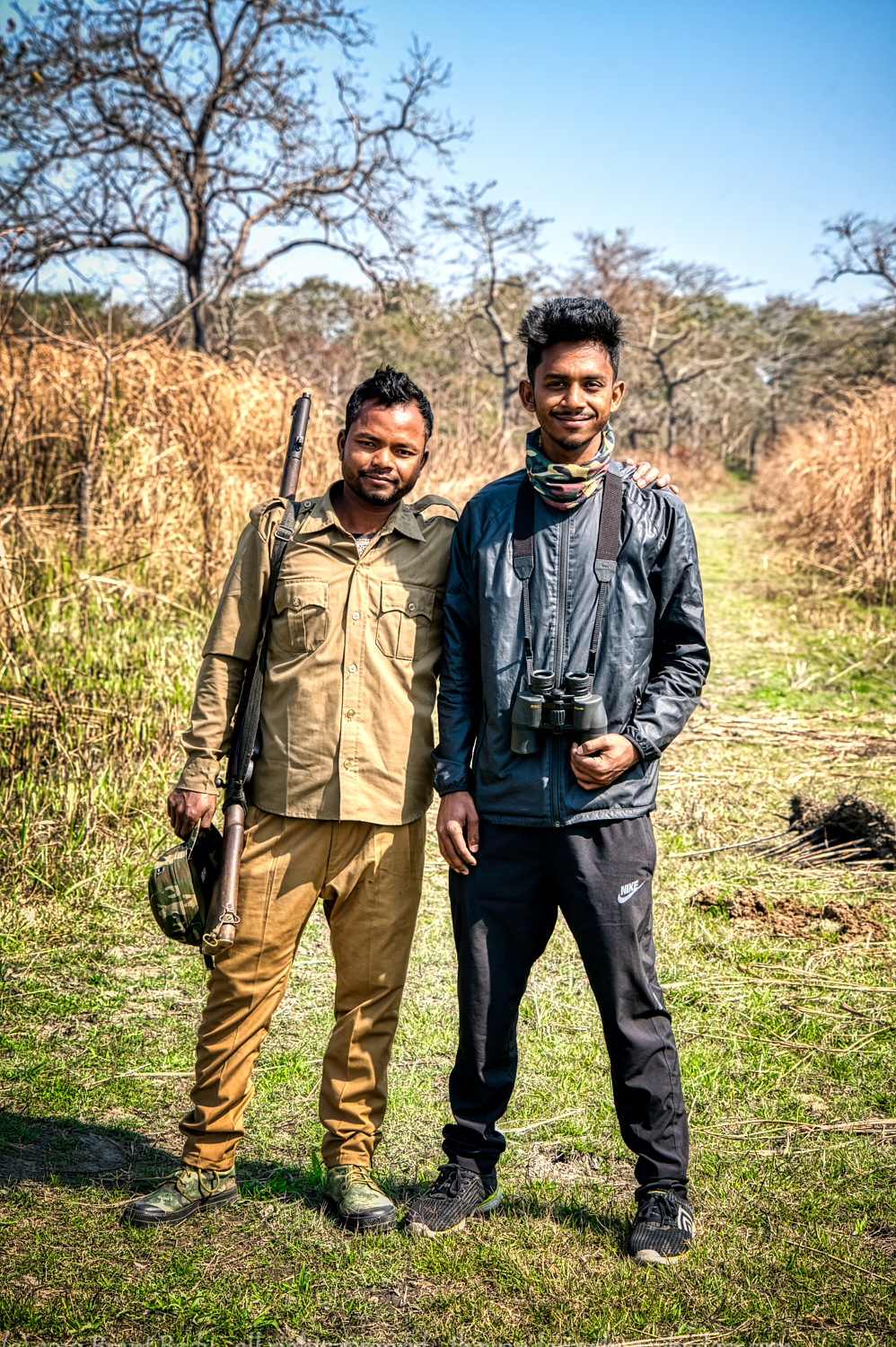 In case anyone is looking for a very capable and good guide (he also specializes in birds, but since I don't do birds that was a wasted talent on me), his contact details are:
Email: bishwajitchetry15@gmail.com Phone & Whatsapp: +91 70027 70838
He was recommended to me from another photographer, and totally concur and recommend him as well.
Tigers
Technically, Kaziranga has one of the highest densities of tigers for a protected area. In 2014 it had close to 104 animals, and is likely at its saturation point in terms of tiger density. Having said that, its not easy to get a glimpse of a tiger in Kaziranga due to the dense and tall elephant grass that covers a lot of the park. As noted before in the blog series "On the Tiger Trail" – if you do see a tiger here it could be VERY VERY exciting!
(In case you are wondering this is THE MOST FAMOUS VIDEO of a tiger attack in India, that took place in Kaziranga in 2013, but the back story behind it is very important! This was a female and two cubs that had wandered out of the park and were actually being hunted by the wardens on the elephants in order to try to relocate them. Can't really blame a female tiger being hunted who is try to protect her cubs.)
So after a few days of banking a lot of good rhino shots, and mentioned to Bishwajit that it would be okay if we spent some time looking for tigers, which we did. Alas, we actually didn't see any, however we did miss a sighting by about 10 minutes. We were staking out a possible location to see a tiger, but it was end of the day and time to exit the park asap so we left. The jeep that remained a few minutes longer and did see a tiger, but were unable to actually get a photo of it.
Kaziranga just came into the news again at the time of writing this account (mid July) as it has been flooded severely by the monsoon rains. With 95% of the park underwater, the animals have to flee and seek higher and drier ground..
A Live Tiger in your Bed & Breakfast?
As noted in the video above, a Bengal Tiger from the park decided to seek refuge in a house (apparently a bed and breakfast), and got some relief by relaxing on a bed. No one was in the house at the time, but neighbors of the owner alerted him that he had a guest of the feline persuasion check-in unexpectedly. Luckily the forest department, with help from a vet from the India Wildlife Trust, assessed the situation, and didn't even need to tranquilize the tiger to remove it as they just waited it out – the tiger eventually left and wandered off without further incidence!
Personally, I found it completely typical of Indian hospitality Ha Ha, i.e. letting the poor tiger just have a rest, but a bit cheeky on the tiger's end to go for the bed – however I guess cats will be cats!
Photo courtesy of Biswajit Chetry
Donations For Kaziranga
Anyone wanting to provide some emergency assistance to the residents of Kaziranga and Assam (both people and animals) can try these two links
For Wildlife: The Wildlife Trust of India
For People: Chief Minister's Relief Fund Assam
If you are more inclined to donate funds closer to the source, you could also contact my guide Biswajit directly via email bishwajitchetry15@gmail.com as he is apparently coordinating donations locally as well.